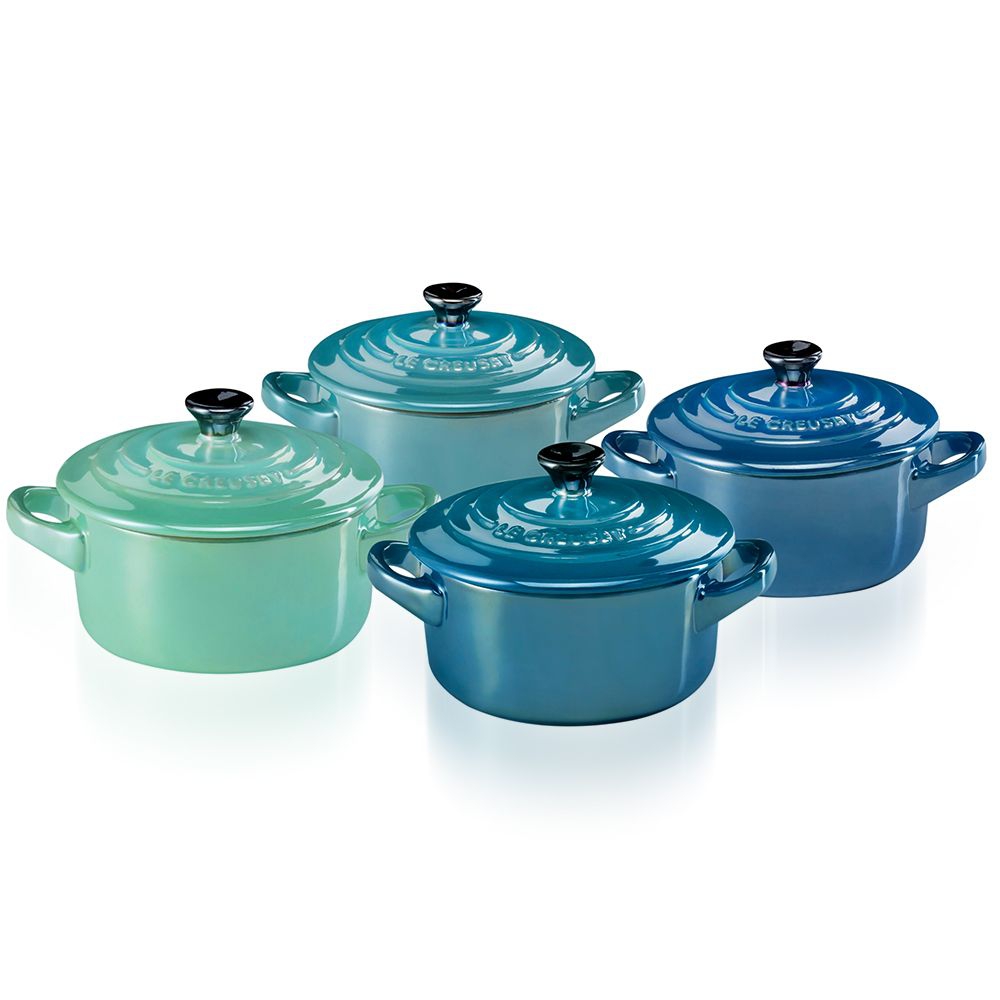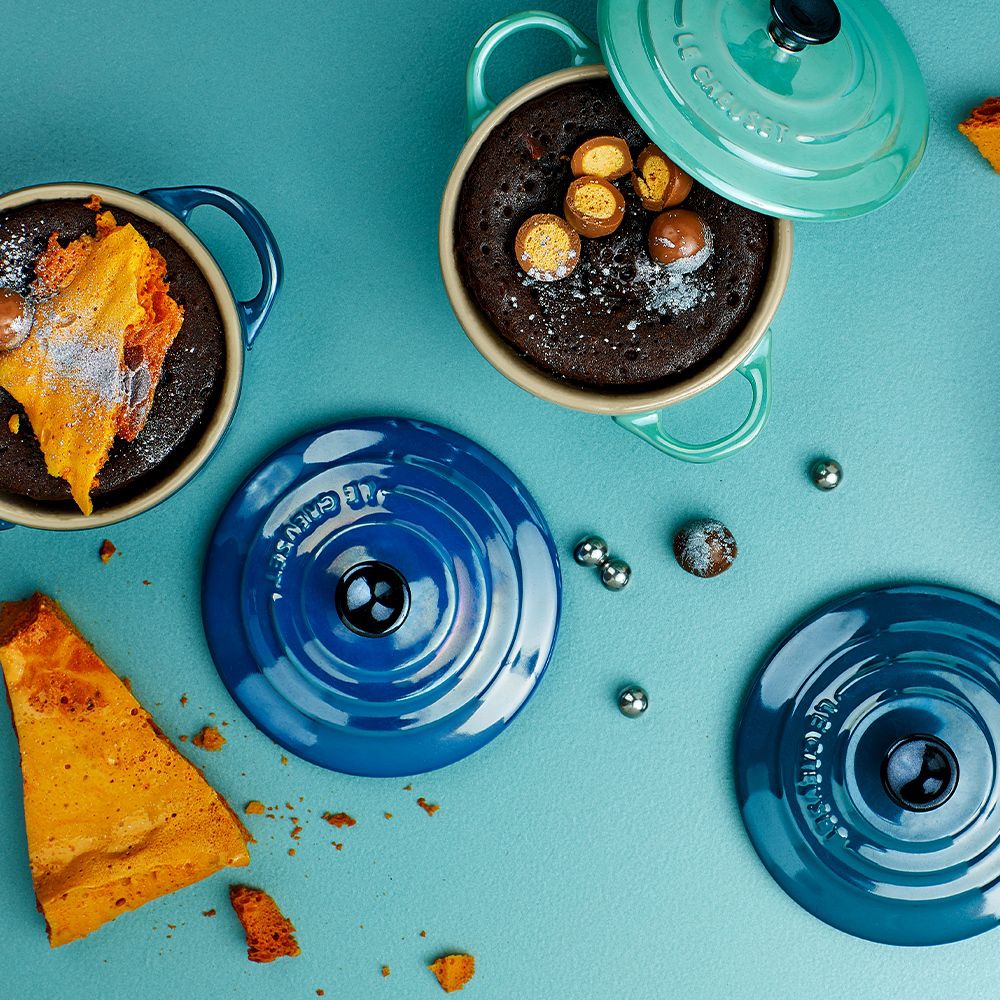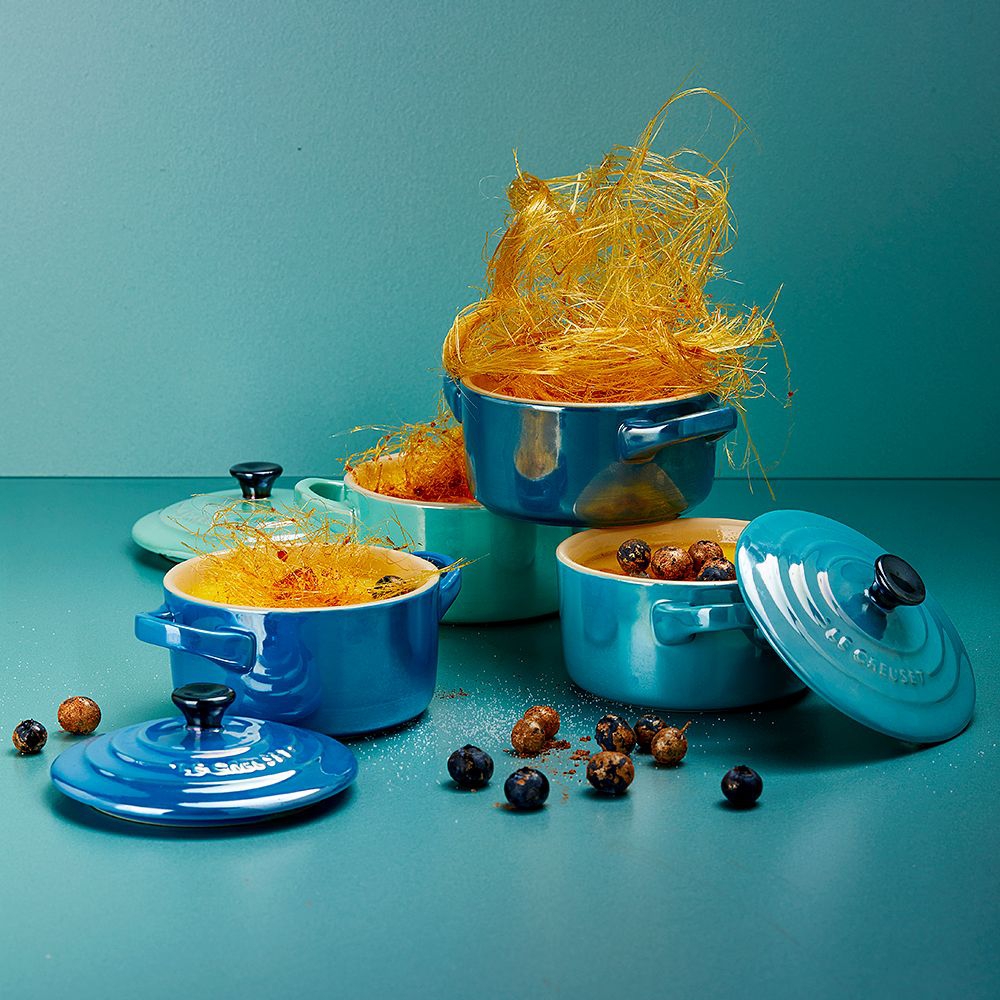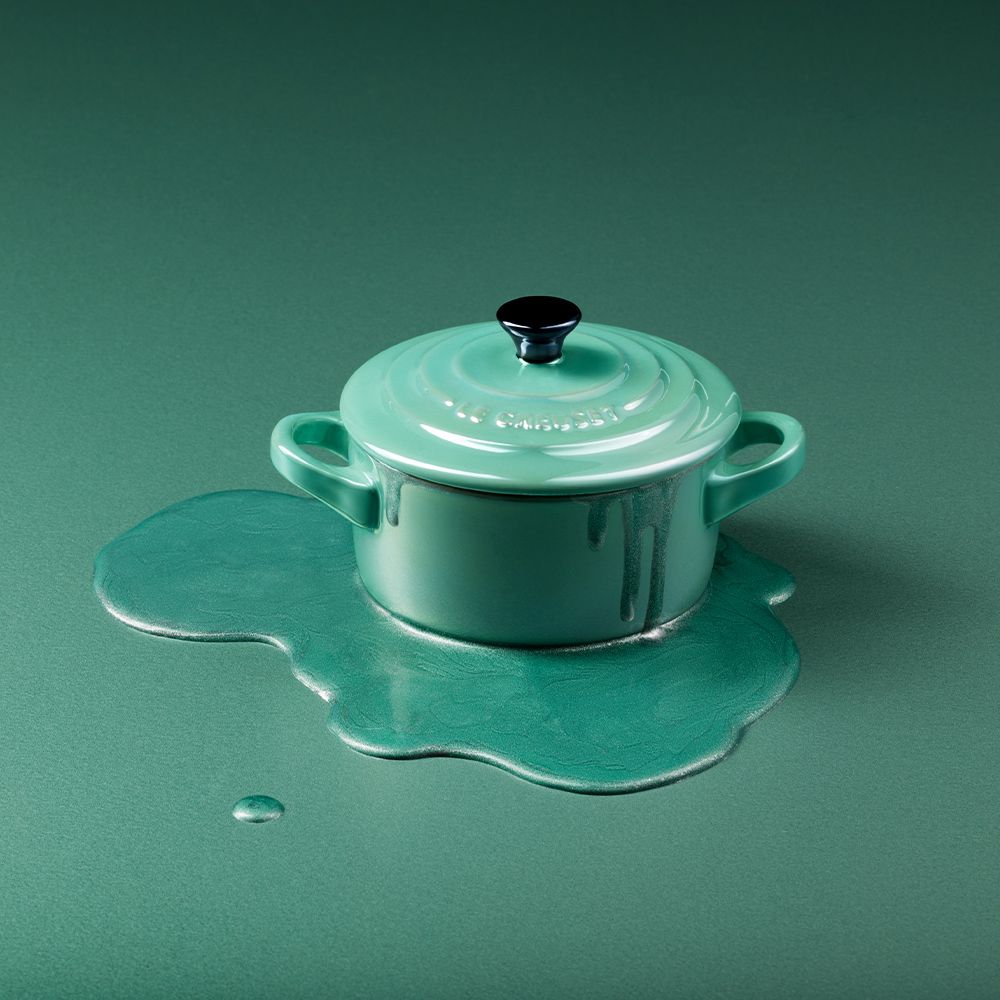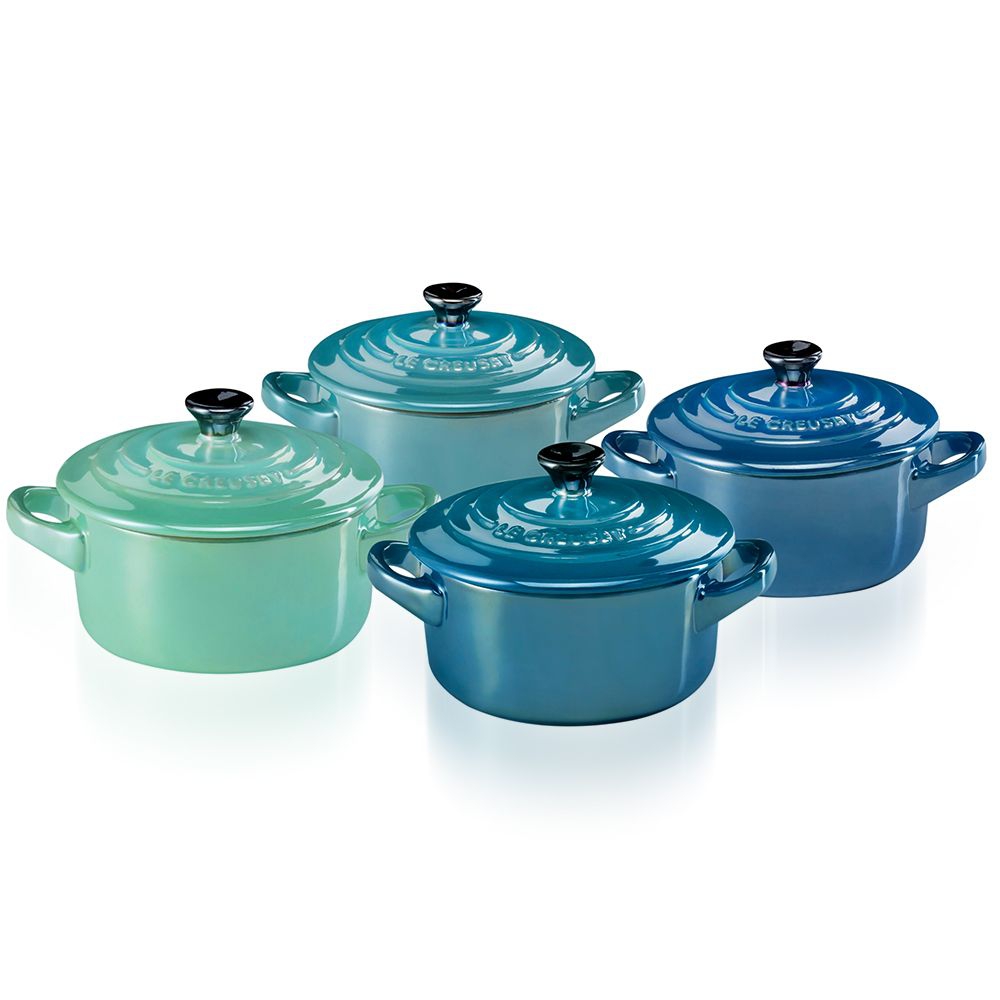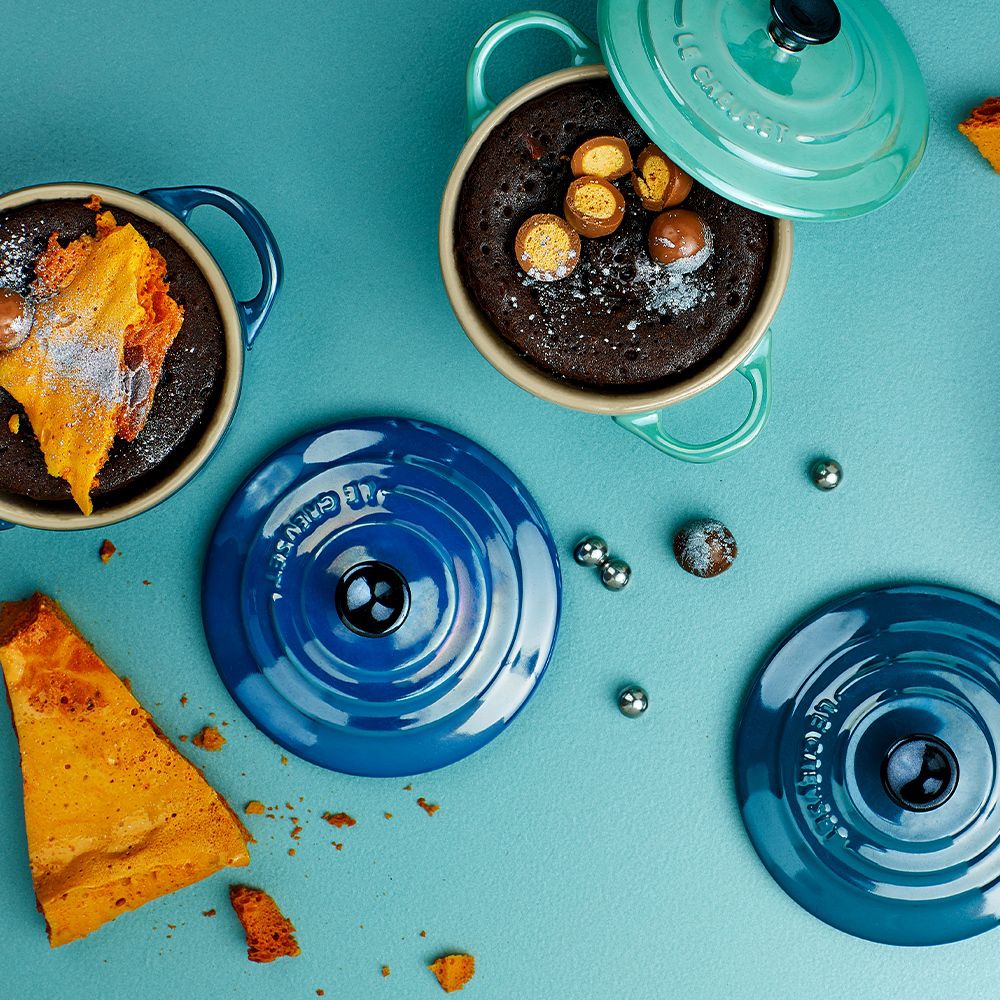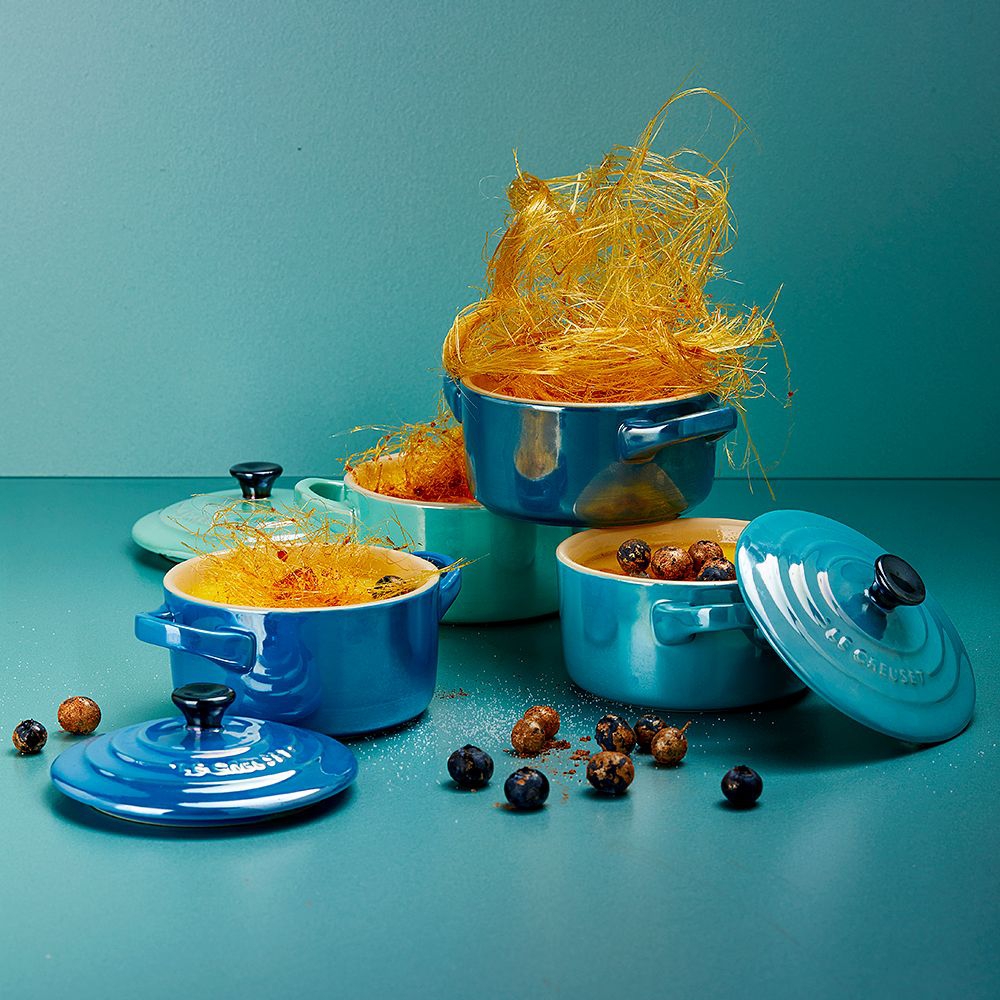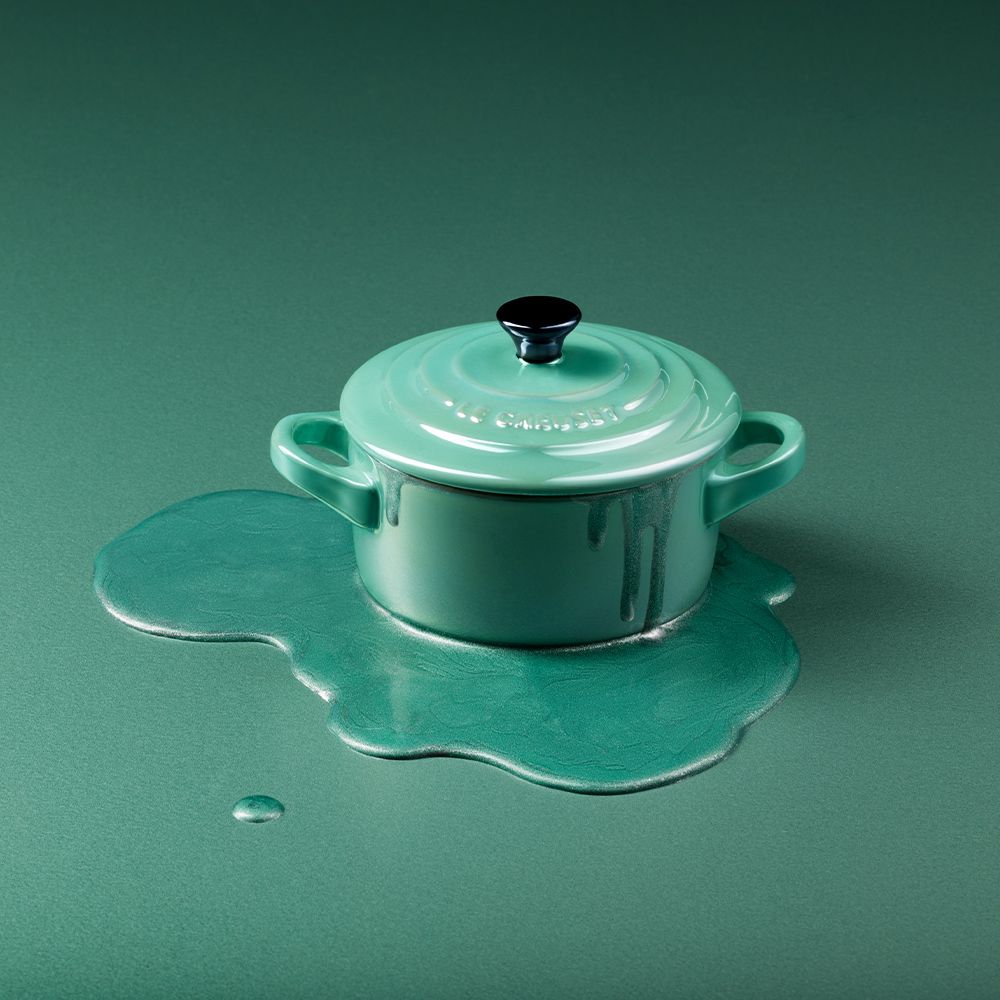 Le Creuset - Set of 4 Petite Casseroles - Is the perfect size for accenting a table with dips, condiments, cheeses, salsas and aioli.
Available, delivery time 2-5 days
Manufacturer:
Le Creuset GmbH
Manufacturer number:
69212108139131
Product information "Le Creuset - 4er Set Mini-Cocotte - Metallics Blue Green"
Presented in a stylish gift box, this elegant set of 4 Le Creuset Petite Casseroles from Le Creuset`s new Matte finish collection features 4 beautiful matt colours: cotton, sisal, cocos and mineral blue. The set is ideal to accent your kitchen and dinner table and is certain to dazzle dinner party guests. Perfect for rich individual desserts such as chocolate fondant, crème brulee, or toffee mousses. It is also the perfect size for accenting a table with dips, condiments, cheeses, salsas and aioli.

The 250 ml capacity makes it the perfect partner for individual portions with these petite round casseroles, you can bake charming individual portions while entertaining your guests. To give you an idea for baking a summer treat inside the gift box you will find a recipe for scrumptious Crème Brulee with Summer Berries.
It is also the perfect size for accenting a table with dips, condiments, cheeses and salsas. The lid makes it practical for heating up sauces in the microwave or keeping snacks fresh.
Features
High-quality exterior enamel protects against metal marks and other damage
Less than 1% porosity, blocking moisture absorption which can lead to cracking, crazing and rippling along the interior
Resistant to staining and flavor/odor absorption
thermal resistant from 260 ° C to -18 ° C.
Suitable for oven, grill and microwave.
Easy to clean thanks to its specially glazed surface.
Dishwasher safe.
scratch and cut resistant.
smell or taste
diameter: 10 cm
V=250 ml
Le Creuset Stoneware
All items in the Le Creuset stoneware range are original designs and have been hand-crafted, making each piece unique. Due to this uniqueness, there may be slight variations from piece to piece.
Le Creuset Stoneware is safe for use in the microwave, freezer, refrigerator, dishwasher, oven and broiler. The maximum oven-safe temperature is 500°F / 260°C.
The enameled surface is easy to clean and scratch-resistant. The enamel is completely hygienic and will not absorb odors or flavors. Le Creuset Stoneware is extremely strong and durable, and resists staining, chipping and cracking. The handles, knobs and rims have been designed for a secure, easy-to-hold grip.
Cleaning and care
DO NOT use any Stoneware piece on the stovetop or any other direct heat source.
OVEN: Maximum oven-safe temperature is 500°F / 260°C. Use oven mitts for lifting at all times.
BROILER: When using under a broiler allow a gap of no less than 2 ½ inches between the rim of the dish and the heat source.
MICROWAVE: Handles may become hot during prolonged microwave use, especially if the handles are enclosed with plastic wrap. Cover just the open top of the dish, leaving the handles exposed.
FREEZER-TO-OVEN USE: Do not place a frozen dish of food in a preheated oven. Place the frozen dish in a cold oven and set the temperature, allowing the dish and oven to heat together. Before serving always check that the center of the food is completely and uniformly hot.
CLEANING: Before the first use, wash the dish in hot, soapy water, and rinse and dry thoroughly. For most day-to-day cleaning, cool the dish for a few minutes before washing and drying, or wash in the dishwasher, allowing the full cycle to complete. Never leave a dish fully immersed in water. For removal of stubborn residues allow the dish to cool, fill with warm, soapy water and allow it to soak for 10 to 20 minutes. Wash in the usual way using a plastic brush or scouring pad if necessary.